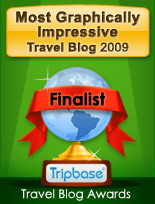 Tripbase Blog Awards 2009
I just had an email telling me that I was selected as a finalist in a technical travel blog category in the TripBase.com travel blog awards! I didn't even know I was nominated – so this was stunning news!
If you haven't figured it out yet – I work hard at this…really hard – so it's great to get a little surprise recognition! I'm getting very close to my 3 year anniversary of blogging; a word that I didn't even know the definition of 3 years ago! I moved to Asia and took on this budget lifestyle and part-time ESL teacher so that I could chase my dreams and see what happened. I wanted to explore the idea that there is not only one path, not only one way to live; I wanted to see if I could change the direction of my life. I'm still chasing, still changing…but it's always nice to know that I'm gaining a bit of ground!
For those of you who want to know more about what the technical travel blog category is, here's exactly what I received special mention for:
Technical Awards Category
This is the award for the best looking/most accessible travel blogs. The award is handed out to the sector's stars; those who lead the way in terms of graphics, layout, accessibility and design. It takes a creative touch to stand out from the crowd and only the leading inspirational travel bloggers will survive the rigorous selection process.
Our panel of travel industry experts have scoured the internet to search for the biggest and the best technically impressive travel blogs. The initial long list is then discussed and whittled down to the shortlist of award winners. We believe that each of our chosen bloggers is at the head of their field. The winners deserve the public recognition for their hard work and are worthy recipients of this prestigious accolade.
Traveling is aspirational, it is creative, and it is about adventure and learning new things. Bloggers in this category will have the rare ability to convey this to followers through page design, images and layout. A travel blog is also a forum for advice and tips on destinations, accommodation, modes of transport and things to see and do. Therefore we also look for a blog that can facilitate easy access by those looking for help or information.